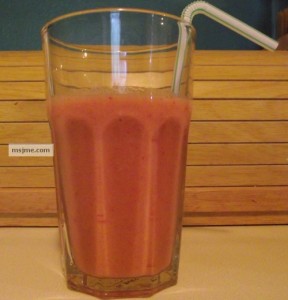 This is the easiest and best tasting smoothie recipe, ever! I am not just saying that because I have made it up all by myself…Okay, I had some help from the recipe by Alton Brown from Food Network.  This recipe is enough for 2 servings and is less than 100 calories per glass.  It takes less time to make it than it does to wash the blender afterwards. Okay, I may be exaggerating a little bit. =)
Ingredients:
1 cup frozen strawberries
1/2 cup frozen peaches
4 chunks of frozen mango
6 ounces of Vanilla Soy Milk
8 ounces of Old Orchard Juice (Blueberry Pomegranate or Acai Pomegranate-depends on what I find at the store). I highly recommend any purple juice that is 100% juice-no sugar added.
First pour the juices into the mixer and then add the FROZEN fruit. No thawing needed! Blend until all the fruit clumps are gone. For some blenders it takes 1 minute, others it can take up to 3 minutes. If you are like me and hate seeds-blend for an extra minute, as this seems to help reduce them. Sometimes I add an extra ounce or two of juice because the smoothie is too thick.   I have it for breakfast sometimes and the smoothie is very filling. When I am running low on strawberries I just increase the peaches and it is still delicious.
Enjoy!