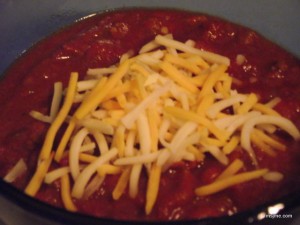 It seems like everyone has their own Chili recipe. I like Wendy's chili best because it is not spicy and has a good flavor to it.  About five or so years ago I came across THIS recipe for a copycat of Wendy's and have adjusted a few things to make it my own.  I have found that letting it simmer in the crock-pot for a few hours is a lot easier and tastier than making it on the stove-top.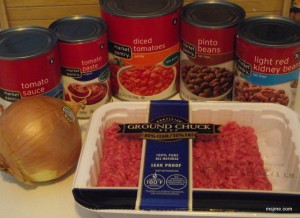 Ingredients:
1 lb Hamburger
1 can Tomato Paste (12 ounces)
1 can Tomato Sauce (14 ounces)
1 can Kidney Beans (16 ounces)
1 can Pinto Bean (16 ounces)
1 cup diced Onion (I prefer yellow)
1 can Diced Tomatoes (29 ounces)
EDIT: Instead of the can of tomato sauce and diced tomatoes, I have been using a jar of homemade canned tomatoes.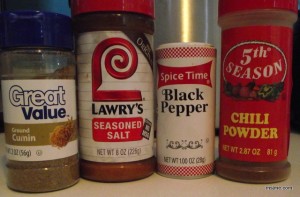 Seasonings:
Cumin
Chili Powder
Black Pepper
Lawry's Seasoned Salt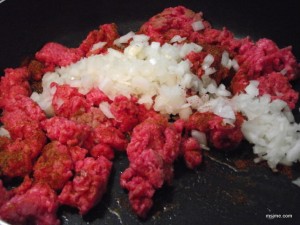 In a skillet, cook the hamburger, onions, 1 1/2 tsp Cumin, 1 1/2 tbs Chili Powder, 3/4 tsp Pepper and 1 tsp Lawry's.  Drain the grease off as much as you can when the meat is brown.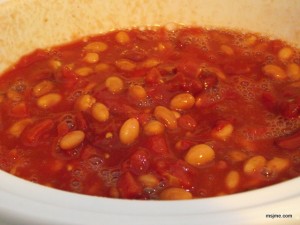 In a crock pot (3qt or bigger), add the Tomato Paste, Tomato Sauce and the Diced Tomatoes (with liquid).  Drain the liquid from the beans and add them. Stir together and add the following seasonings: 1 tsp Cumin, 1 1/2 tbs Chili Powder, 3/4 tsp Pepper.   Add the cooked meat and stir.  Cook on low for at least 4 hours. It is best to stir it every hour. Chili is done when the beans are tender.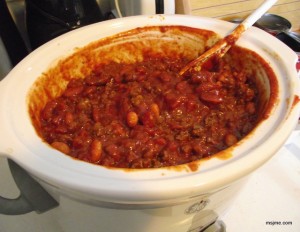 My chili is very thick and flavorful. Usually I top my bowl off with cheese and crackers.  This recipe makes 6-8 servings and can be frozen.  Reheat leftovers on the stove top.