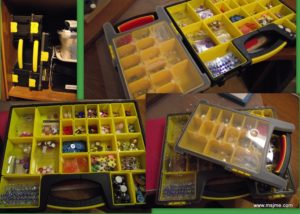 My husband gets all the credit for this craft storage idea.
I used to use old yogurt cups, Tupperware, sour cream containers, anything I could find with a lid to put all my little "pretties" in.  My husband is a problem solver and a few years ago he put a couple of these under the Christmas tree for me.  Stanley storage boxes revolutionized my craft cabinet. Seriously. It freed up a lot of space and each yellow compartment comes out, which makes it super handy! I like being able to see what's in the box without having to open it. These are so much more handy to have than my old system.
Since these boxes "lock," I'm able to store them on their side to make more room in my craft cabinet for other stuff.  (I may or may not have too much craft stuff–depends on who you ask and on what day.)  They travel well too.
You can find these in the toolbox section at stores and they started carrying an off brand at Harbor Freight.