Pictures do not show how awesome and amazingly moist these cookies are. The original recipe that I use to bake were always missing something…Then one day I figured out how to put these over the top. Today I am telling the world my "secret."  Okay, maybe it is not as big of a secret, because I have passed out my recipe a time or two to friends. Besides my "secret" ingredient, it is also important to follow the directions that I take.  I have experimented with this for years and have it down to a science. Enjoy!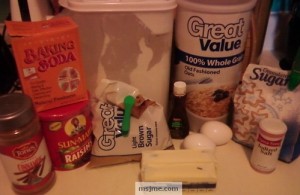 Preheat Oven to 350 degrees
Ingredients:
1 cup (2 sticks) Butter
1 cup packed Brown Sugar
1/2 cup Sugar
2 Eggs
1 tsp Pure Vanilla
1 1/2 cups Flour
3 cups Old Fashioned Oats (sometimes I substitute 1 cup of Quick Oats for 1/2 cup Old Fashioned Oats)
1 tsp Baking Soda
1/2 tsp Salt
2 tsp Cinnamon
Raising or Chocolate Chips (Optional)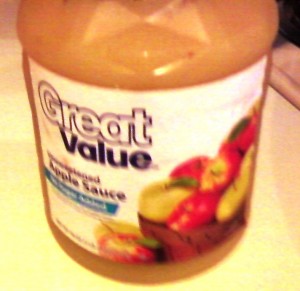 Cream the Butter and Sugars in a large bowl. Add the Vanilla and Eggs.  When this is smooth, add 1tsp of Cinnamon and mix together. Add the Salt.  In a small bowl combine the 1/3 cup of Applesauce with 1/2 tsp of Cinnamon. Add this to the Butter mixture.
In a separate bowl, sift (or stir with a fork), the Flour, Baking Soda, and 1/2 tsp Cinnamon. Slowly add this to the Butter mixture. Add the Oats, but DO NOT use an electric mixer after this point. The rest is all by hand!
Once everything is mixed well together, add the Raising or Chocolate Chips (or both if you prefer).  Drop spoonfuls onto a cookie sheet and bake for 9-10 minutes. They will be a golden brown color.  Let the cookies rest on the cookie sheet for 1-2 minutes, then take them off and place them on a drying rack or plate to cool.
This is by far one of my favorite cookies to make. One of these days I will take a better picture. Don't let this deter you from trying this recipe out!