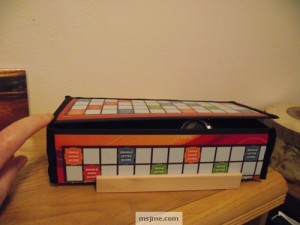 I love Scrabble, but no one ever wants to play =(  I also love doing crafts with Scrabble Tiles (pics coming soon!).  Even though I didn't have a complete tile set, I still kept the game board and the racks just in case I could ever find a use for them…then it happened. I stumbled upon THIS BLOG post on Pinterest and was inspired.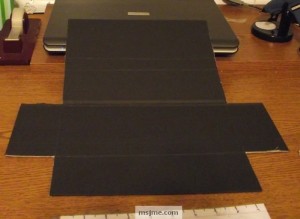 I followed the diagram on that site, but instead of 3.5 inch, I used 2.5 inch measurements.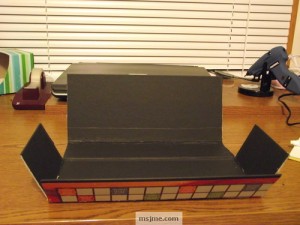 I put pieces of Duct Tape on the inside corners and hot glued the box together. Then I hot glued a piece of black felt to the bottom.  Once the corners were completely hardened, I removed the Duct Tape. If I had black tape, I could have left it on…*mental note, buy black Duct Tape*
On the top edges (where the game board is folded/scored) I glued a piece of black ribbon.  The racks were added to the bottom of the box as "feet" and they really helped tie the whole thing together.
This is a "Treasure Box" …and until now I didn't realize what that meant. A "Treasure Box" is basically a box that doesn't close all the way.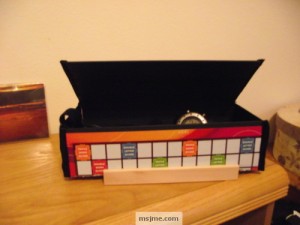 It is a perfect spot for my watch and other small gadgets that I use. I still have one board left, maybe I will make one to gift to someone. Maybe…