This is a healthy recipe and it is a very yummy recipe. A few years ago I came across it in a magazine (I can't remember which one) and I have to admit, I thought it was an odd ingredient combo and seemed way too easy to make. Since then, I have made these at least a dozen times.  The only bad thing about these muffins is that these muffins stay fresh for 3 days max.  This is not enough time for me to eat all 6 muffins (12 cupcakes).  Usually I save a few for myself and pass out the rest to friends.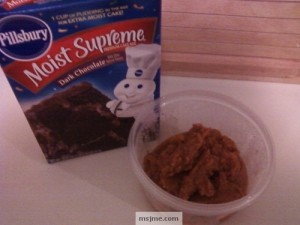 Preheat oven to 350 degrees
Ingredients:
1 Chocolate Cake Mix (I used Dark Chocolate this time. Devils Food is another good choice.)
1 can of Pure Pumpkin
Yes, only 2 ingredients! Mix these by hand and then fill the muffin or cupcake liner FULL. I like to smooth the tops before putting them in the oven. I also call them my "Ugly Muffins" because they are not that attractive looking because the recipe tends to keep the same shape and does not expand much. It is a very dense muffin/cupcake. I do not suggest using a hand-mixer because the batter sticks to the beaters and is more work than just stirring with a spoon. Bake for 26-28 minutes. for muffins and 18-20 for cupcakes.  Muffins are done when an inserted toothpick comes out clean.
This is probably one of the healthier recipes that I will ever post. The number of calories all depend on the type of cake mix used. The pumpkin is full of Iron, vitamins and fiber.  My photo of the ingredients is confusing. I had to use the pumpkin I had leftover from a dog treat I made earlier in the week. Maybe someday I will upload a better pic, but don't hold your breath!