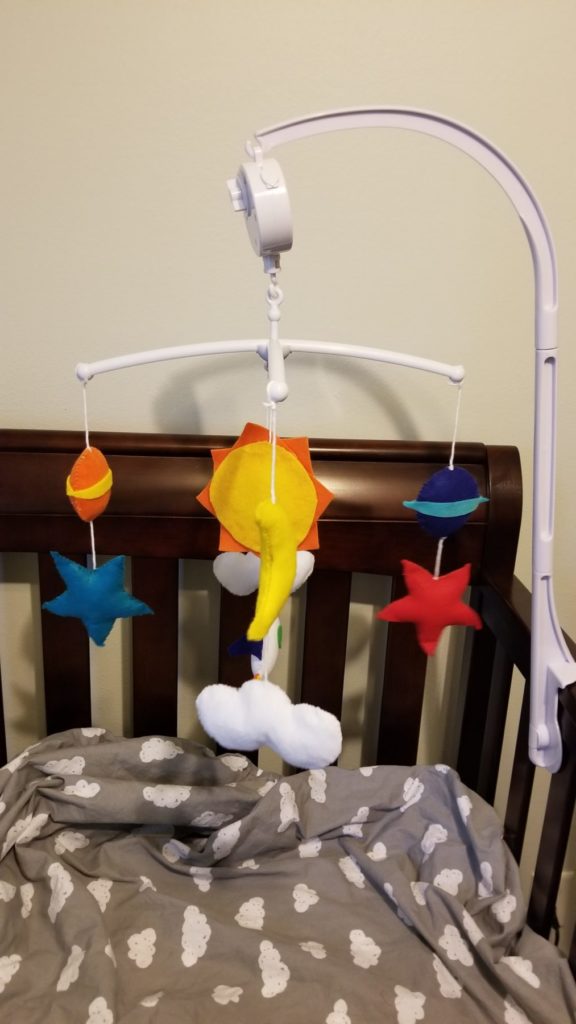 Since I'm crafty there is pressure to decorate our baby's nursery with lots of handmade items.
Well, that is not happening… Yes I'm crafty, but I'm also tired and take any opportunity to nap instead of craft during this pregnancy. lol.
But I did dedicate a lot of time to making this mobile. Our nursery theme is "Space" and I had fun designing and making this mobile. I read up on some tips and found that using bright colors and simple shapes is best. We did purchase a generic baby mobile unit off Ebay. It is similar to THIS ONE on Amazon.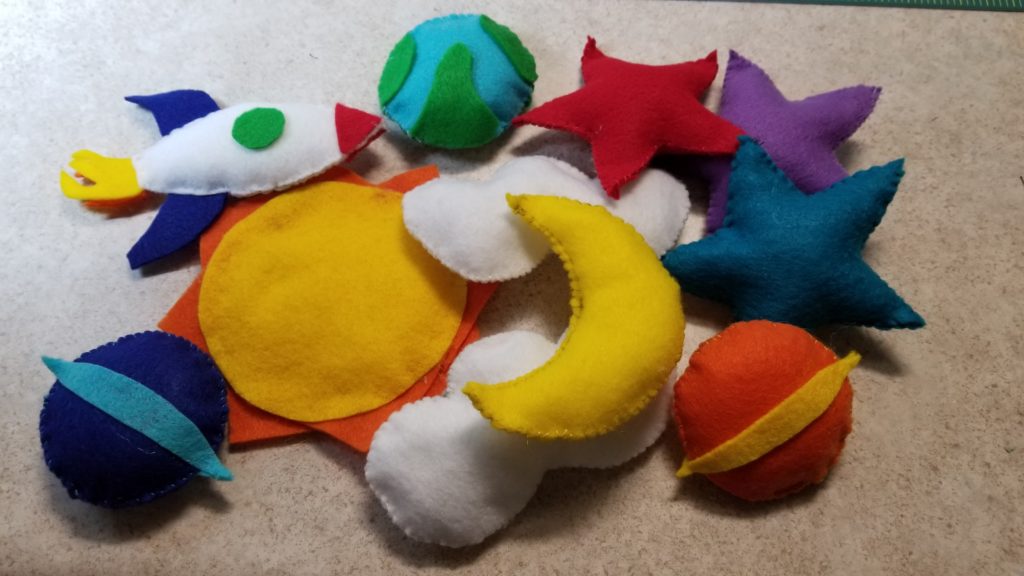 Is it crazy that I had all the felt and material needed to make this? Yeah, my craft stash is amazing 😉
The first toy I made was the sun. I thought I would just use the hot glue gun, but it didn't turn out as well as I wanted it. It felt like it was missing something. So I switched up my crafting to hand stitching. I'm not great at sewing by the way, but this is very easy to do! Basically all I did was sew a simple stitch 3/4 of the way around the toy then stuffed it with filling then finished it. As I said, my sewing is not perfect, but that's okay! You can't tell where I had a few oopsies. This link is a nice guide on how to handstitch. The hot glue gun was used to apply the extra decorations on the toys and to help attach the rope (I used butcher's twine) for the hanging portion.
To make this yourself, you will need the following:
Felt, poly fill(stuffing), needle, various colors of thread, hot glue gun, and twine.
Basic shapes are easy to find in a Google search. Print then cut.