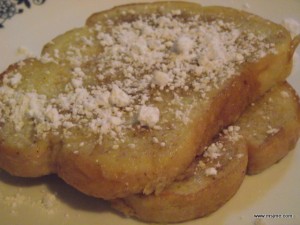 We call this MsJme toast because there really isn't too much French about it.  I grew up having homemade French Toast for breakfast on random weekends. As I got older, I changed the recipe up some and now have something that is easy, tasty, and did I mention easy to make? It also makes a great after school snack for kids.  It's sweet and has a good serving of protein.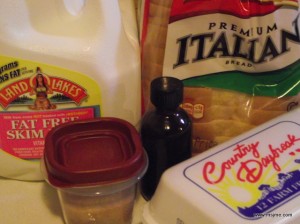 Ingredients (One Serving-2 Slices):
2 pieces of regular sliced bread. (Cinnamon Raisin flavored bread is amazing with this recipe-but usually I just use this sliced Italian because it doesn't have High Fructose Corn Syrup)
1/4 tsp Vanilla Extract
1/4-1/2 tsp Cinnamon Sugar
2 Eggs
1 tbs Milk (I always use Skim)
To make 4 slices, add 1 egg and 1/4 tsp more of Cinnamon Sugar.  If you are using thicker bread, you can double the ingredients above to make 4 slices. 
Whisk the Eggs and Milk together for 30 seconds to 1 minute. It should be all yellow.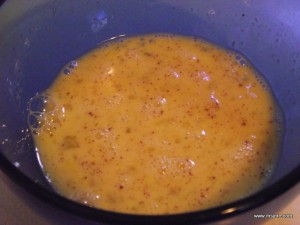 Add the rest of the ingredients and whisk again for about a minute.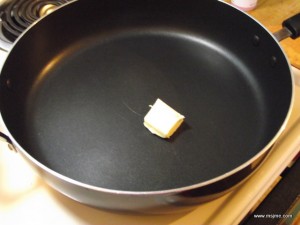 In a large skillet, melt about 1/2 tbs Butter on medium heat.  You can just use cooking spray (butter is tons better though!).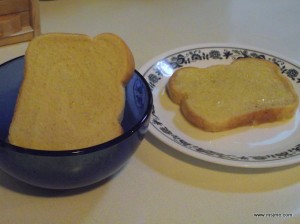 Coat the Bread with the egg mixture (custard). If the Bread is fresh (super soft) I always put it in the toaster for a quick minute first.  Fresh bread falls apart easy when it is coated.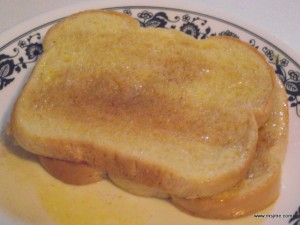 Sprinkle Cinnamon Sugar on each side. Regular sliced bread does not need to sit and soak. This will actually cause it to be soggy. Dip the bread only when you are about to fry it in the skillet. Also, if you have to serve it crust-free, wait until after it is cooked to remove the crust. It is harder to flip when there is no crust (it's possible to flip it, just harder to do).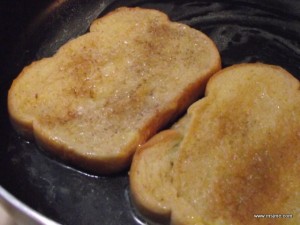 Fry on medium-low heat for 2 minutes then flip it.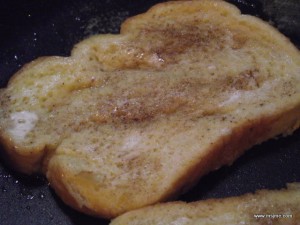 Cook an additional 2 minutes on the other side then flip it again. Cook for 1 minute on each side then cook for 30 seconds each side. Confused? Basically, cook for 2 minutes, flip, 2 minutes, flip, 1 minute, flip, 1 minute, flip, 30 seconds, flip, 30 seconds, done. This is a total cooking time of 6 minutes. The slices should be lightly browned. Thicker bread should be cooked about 2-3 minutes longer.  
Most recipes say to just cook it on each side until it is browned (look at photos, usually it is overcooked and burnt-not toasted). I have always found this to make it dry and lack taste. Flipping it throughout the cooking time has worked the best for me and always made it more flavorful. Overcooking murders this dish.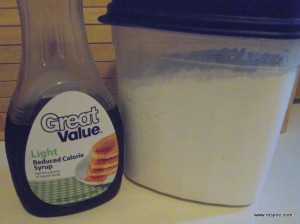 Optional: Sprinkle Powdered Sugar on top and serve with Maple Syrup.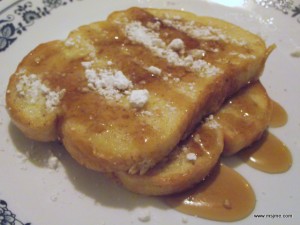 This snack/meal takes about 20 minutes to prep and cook. Depending on the bread, it averages 300-400 calories a serving. Some people like to serve it with fruit on top too. Enjoy!