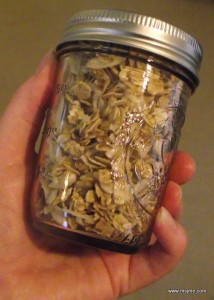 After two tries and endless recipe researching, I finally figured out how to make fantastic granola. The recipe is easy.  At least it seems easy to me, compared to many that I came across online. My granola recipe is sweet, but not too sweet and I like to think of it as a "healthy snack." The only bad part is, it takes about 30 minutes to make.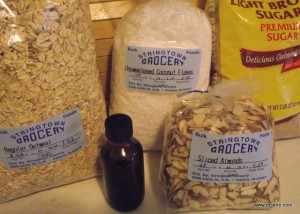 Ingredients
4 cups Oats (regular, NOT quick)
1/2 cup Sliced Almonds
1 cup Unsweetened Shredded Coconut
3/4 cup Brown Sugar
 2 tsp Vanilla Extract
1/4 cup Water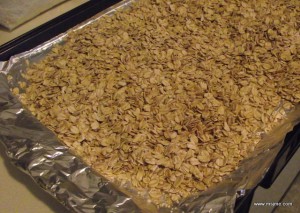 Preheat Oven for 300 Degrees
Line a baking sheet aka cookie sheet with foil or parchment paper. This step will save tons of clean up time, trust me! Spread out the Oats and bake for 3 minutes.  Stir up the Oats and sprinkle the Almonds on top and bake an additional 3 minutes.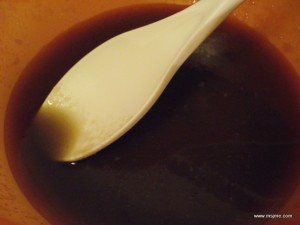 While the Oats are baking, mix the Brown Sugar and water together. Microwave for 1 minute. Stir. Microwave for another minute. Mix in the Vanilla Extract.  Set aside.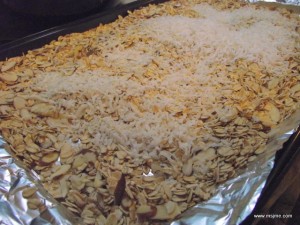 Once the Oats and Almonds are done baking (6 minutes total), stir it up then sprinkle the Coconut on top.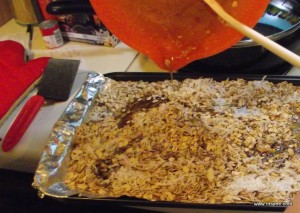 With a large mixing spoon, slowly pour the syrup onto the oat mix on the baking sheet, mixing them together. Stir the oats around, try to get every spot covered with the syrup. Spread it out evenly on the baking sheet and bake for 7 minutes. Stir up the mixture (flip the pieces around the best you can).  Bake another 7 minutes.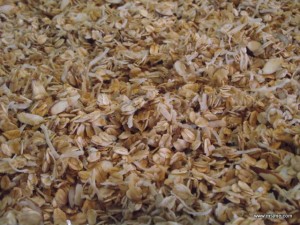 It will be slightly browned and crispy. Let the Granola cool and package it in airtight containers or jars. This recipe yields about 8 servings (1/2 cup) and is approximately 200 calories a serving. It's a great after school snack or breakfast item. Of course you can change it up easily by adding in dried cranberries, raisins, chocolate chips, etc.