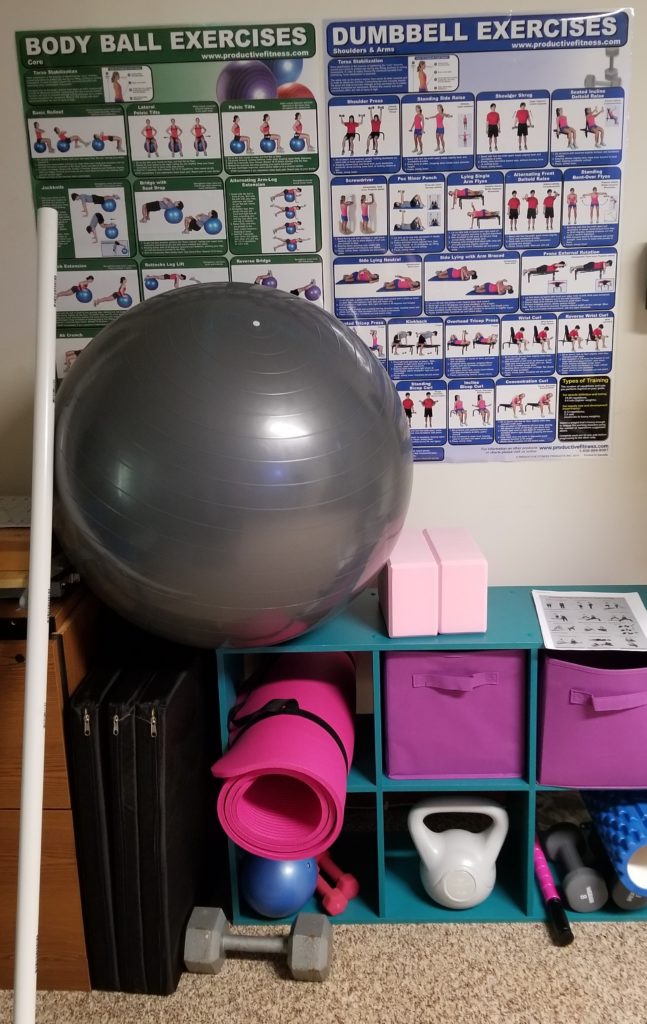 All of my home workout gear is in one place now. I used to keep it in mini piles all over the basement – and it drove me crazy! The exercise posters were a gift from my hubby a couple years ago and they help me a lot. Mostly I use them to give me ideas on what to do next and how to do the form of it. You can find them on Amazon.
The key to my little area is the cubby. I found it on clearance at Target and it was a bonus that it's in one of my favorite colors. You can find these cubbies everywhere now. Since I'm not confident on the amount of weight it can hold before bowing, I placed my dumbbells and kettlebell on the very bottom. This also helps with keeping the unit sturdy. The cubby is 5 inches from the wall to give space to the yoga mat and exercise ball.
The purple totes hold my collection of resistance bands and a jump rope. My exercise pump is in one of the totes also. It's super handy! The folded up black mat is something I bought on a whim as an Amazon Daily Deal. I have yet to use it, but have it there just in case.
Hope this organization idea helps you! I find that if it's easy to find and to get to, then I'm most likely to use it. My dog is not a fan of the exercise ball so I like having it up off the floor. Will this space always look so neat? Maybe. But, I have no excuse for it not to!