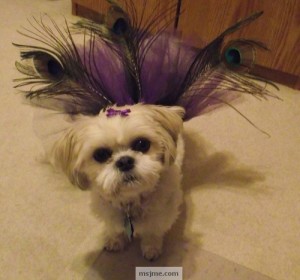 I wanted something eye-catching for my dog to wear to a local dog event. She tolerates me dressing her up pretty well. I think the key to making a dog comfortable in costumes is telling them how pretty they are and lots of treats.
Actually, it is mostly the treats that win her over.
I made the tutu with purple tulle and a few pieces of black tulle. HERE are the directions on how to make the knot with the tulle from a previous blog post.
Attaching the Peacock feathers was a bit too easy. I didn't think it would work, but it did. Basically I put a dot of hot glue on the tip and slipped the feather under one of the tulle knots. Due to the way the tutu is worn, it keeps the feathers sticking straight up. I may have to make one in blue and green for Halloween.