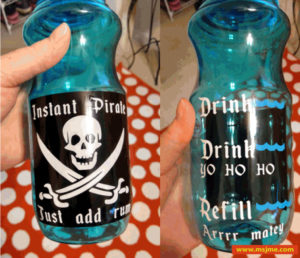 Apparently I didn't take a good photo of this. Oops.  It says "Instant Pirate-Just add Rum."
This is a water bottle I designed for a friend. She loves pirate themed things so I found some graphics and put it together, along with some Jme touches.  The water bottle was purchased at Dollar Tree.
Note:  Putting sticker vinyl on curved surfaces is hard.  This took me three times to do! I tried a bunch of tricks too and still couldn't get it perfect.