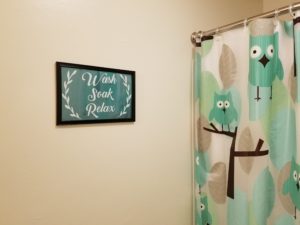 It took me 6 months, but I finally made a cutesy decor sign for my bathroom.  Of course I have had all the materials already in my craft stash.  The frame is from Dollar Tree.  I took out the pre-printed "ugly" sign in it.  The teal background is actually a fun teal foil vinyl by Cricut and the white is white vinyl sticker (Oracal).
By the way, owls are my second love (behind peacocks).  I loved this shower curtain when I saw it at Target and had to have it.
If you want to make one just like mine, go to here and download my jpg that I designed.