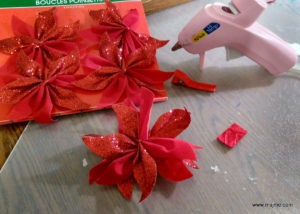 Glitter is a big no-no in my crafts.  Yes, it's soooo pretty, but it's also soooo messy! It's rare that I take on a project that is glitter, made of glitter or has glitter.  With that said, I made an exception with these fake Poinsettia flower bows.  They were just too cute to pass up and I had to make a hair clip out of them.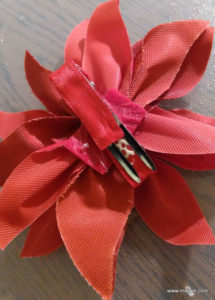 This is a fairly simple craft.  Kids could do it with adult supervision (because of the hot glue gun).  Basically you just need the bows, a small piece of felt and a hair clip.  Stack the bows and glue them together.  Then glue a piece of felt at the bottom where you will then glue the hair clip piece.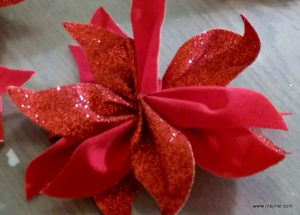 A six pack made 3 hair clips.  I used a lint roller on everything to pick up all the glittery mess that ended up everywhere. ugh. No matter how careful I am, glitter never fails to decorate all things in the room.  Pretty sure even my dog got red glitter in her fur.  Oops!