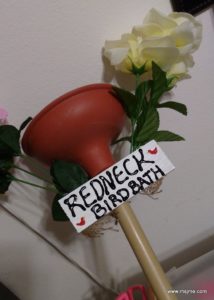 I can't tell you what inspired this craft/gift idea.  I'm not sure if I saw it on Pinterest, in a store or if it is an original design.  All I know is, it makes a cute and funny gift idea or yard decoration.  It's very easy to make, so it can be a kid's craft too.  Note: instead of "Redneck Bird Bath,"  it could be a "Redneck Bird Feeder."
All the materials needed are easy to find and can probably be found at the Dollar Tree.  I kick myself for not checking there first for the plunger.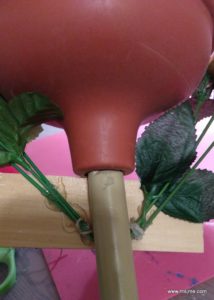 The pieces were glued on with E5000 glue and/or hot glue.  I also used some old twine to tie it together and it gave it some rustic detail.  To cover up this part I glued some old burlap on.  Again, it added some aesthetic to the piece.  The random duct tape on the handle isn't shown in the photo. This was the easiest way to cover up the store stickers that refused to come off!
Anyway,  I'll try to get a photo of this in it's new home (my mom's flower garden) when the weather warms up and she posts it out there.