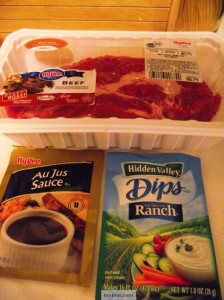 This is a very simple and easy recipe which makes about 4 servings. My boss actually gave me the recipe a few years ago and I made a few adjustments.  The only ingredients you need are a boneless chunk of beef for roasts, 1/2 of a packet of Au Jus (find it in the gravy packet section at the store) and 1/2 of a packet of Hidden Valley Ranch Dip.  FYI half a packet is 1 tablespoon.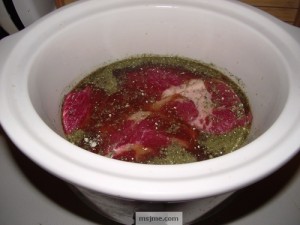 Mix the packet contents with 1 cup of water. Put all the ingredients into a crockpot and cook on the low setting for 7+ hours. The longer it is cooked the more tender the meat gets.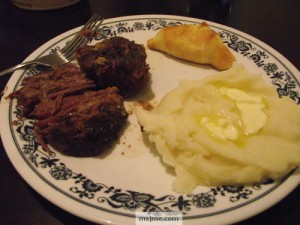 The photo is not the best, but you can see that the meat is shredding because it is so tender.  It practically melts in your mouth! I failed to plan ahead for side dishes so it was not the healthiest of dinners.  This should not deter you from trying it out. Trust me, you will love it! (unless you are a vegetarian or vegan).