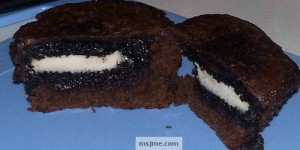 I love experimenting with recipes and love it even more when it involves adding more chocolate.  Today I was in the mood to bake some brownies and had a box of Who Nu Cookies(which is an awesome and more healthy alternative to Oreo).  I have seen various recipes with cookies being baked in the middle of cupcakes and brownies so I decided to give it a try. An extra bonus was discovering that the Who Nu cookies were double stuffed.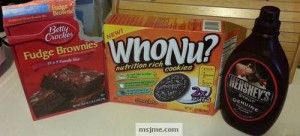 To make a basic "Jme" brownie you start with a box of Betty Crocker Fudge Brownies, the ingredients listed on the box (2 eggs, water and oil) and 3 tablespoons of Hershey's Syrup.  Hershey's is the best and the imitation chocolate is not the same, so don't even try!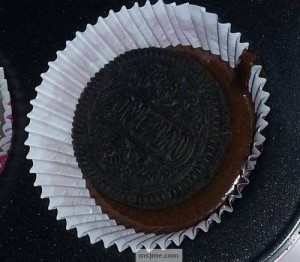 Put a tablespoon of the brownie batter into the bottom of a cupcake liner (regular sized).  Add the cookie then cover it with 1-2 tablespoons more of the batter.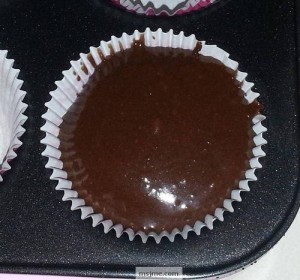 Brownie batter does not expand much, but you want to leave a little bit of room at the top so it doesn't overflow. Bake in the oven at 350 degrees for 25-30 minutes. Test the brownie with a toothpick and when it comes out with crumbs and not wet batter then you know it is done.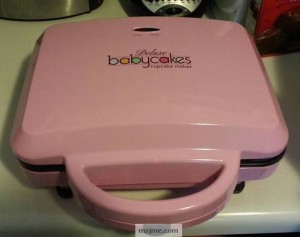 A couple weeks ago I got an awesome deal on this "Deluxe Babycakes Maker."  Awesome=$14 brand new at Kohls, thanks to a sale and percent off coupon.  This appliance is amazing.  It bakes 12 regular sized cupcakes in 8 minutes! These brownies baked for about 16-18 minutes.  It was a very lucky chance that I found it.  I can't find it on the Kohls website and the current listing on Amazon.com is for $59.