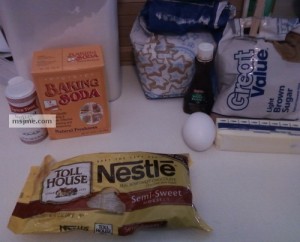 This is a JME original recipe, which has been created after years of baking chocolate chip cookies and adding a little of this, less of that, etc etc. They may also be called "Momma's Cookies," if you feel the need to give them an extra special title. If you try this recipe, you must know that in order for them to come out exactly like mine-you need to make them exactly like I do. Do not skip a step. Do not pass go. Do not collect $200…
Preheat Oven for 375 degrees
Ingredients:
1/2 cup Sugar
1/2 cup Brown Sugar (packed)
1 stick of Butter (room temperature)
1 Egg (set it out for 10 minutes before you start preparing the dough)
1 1/4 cup Flour
1/2 tsp Baking Soda
1/4 tsp Salt
Half a package or more of Chocolate Chips. I like to use Semi-Sweet in the warm months and Milk Chocolate in the winter, because of their "melting" qualities.
First, cream the butter and sugars together in a large bowl. I always cut the butter into cubes.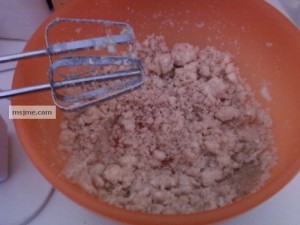 Once the butter and sugar looks like little coated balls of yummyness, add the Vanilla and the Egg. Mix at low-speed until the dough is creamy.
In a separate bowl, mix the flour, baking soda and salt. If you are enthusiastic and want to use a sifter…this is the perfect time. I am lazy.  For me, mixing the bowl up with a fork for about a minute does a good enough job.
Slowly add the flour mix to the first bowl.  Mix at a low-speed.  When the dough is all mixed up, add the Chocolate Chips and stir them in with a spoon. You do not need the mixer anymore.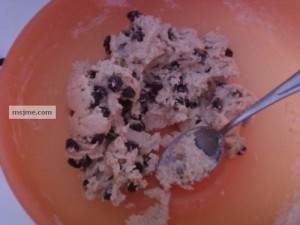 Yes, this recipe can be done without a handy mixer. It will turn out delicious also. I prefer using a hand-mixer because my arm gets tired and I don't have to worry about clumps in the batter.
Spoon the dough onto a cookie sheet (greased if needed) and bake for 7-9 minutes. Oven times always vary. The longer you bake, the crisper the cookie. Expect to make about 2 dozen medium-large cookies. It really depends on how much dough you eat (which I know you are not supposed to eat raw egg, but it is a chance I take).