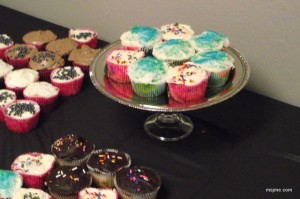 Who doesn't need a cupcake stand? I saw this craft numerous times and had to make a few. It is very cheap to make, very versatile, and you can customize it however you want. I have left mine plain, but some people painted them after they were made.  Besides cupcakes, I am also going to use this cute stand as a display during a craft show and maybe even as a jewelry dish.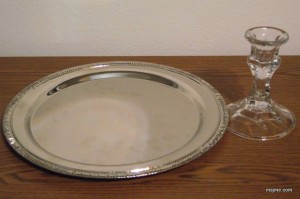 Find the candle stick and platter at your local Dollar Tree.  Yes, you can find similar items at other stores, but for $1 each that is hard to beat!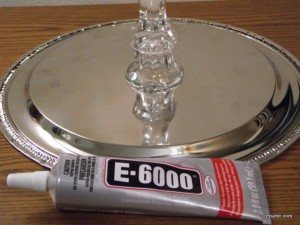 Locate the center of the platter and carefully glue the candle stick on. I prefer E-6000 for this job.  The key to glue like E-6000 is to "flash" it.  Flashing means to simply stick the item on with the glue, pull it apart quick to let the glue vapors escape, then re-attach in the same exact spot.  After searching google for 5 minutes and not coming up with an article that describes this practice…I give up. I hope I don't confuse you.  Maybe "flashing" isn't the right term. To be honest, I am afraid to google "flashing" because it could be NSFW and some things just can't be unseen! heh.
Anyway, if you know what I mean and I am using the wrong term, message me and I will correct it. Thanks!