I have been reading reference books and articles on the fantastic uses of essential oils.  Coconut oil has also been included in these readings and I can't even begin to tell you how amazing it all is.  However, I can tell you how scary it is to read the chemicals listed on the back of every day products.  I am slowly weaning myself off these items and making my own, which are both better for me and better for the environment.  The more I learn about essential oils, the more I just shake my head in amazement and wonder. How did I not know this before!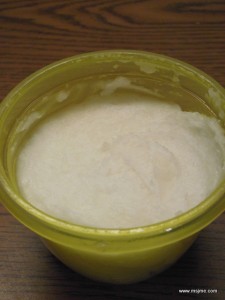 My "recipe" for this Natural Face Wash & Moisturizer is so easy, you won't have to take too many notes.  By the way, it exfoliates and moisturizes your skin.  Oh, and it has a natural SPF of 4-7(depending on the Coconut Oil you use). I also can't forget to mention one more benefit that I have noticed: my blackheads are diminishing!  (Can you tell I am excited about this?)  The ingredients are Extra Virgin Coconut Oil (should be a solid at cool temperatures, turn to liquid at 75 degrees or higher) and Baking Soda. Yep, these two items are also "kitchen staples" in some homes.  Simply mix 2 tablespoons of Coconut Oil for every 1 teaspoon of Baking Soda. Mix it until smooth.  If your mixture ever melts, just stir it up and put it in the fridge overnight.
How do you use this awesome stuff? Wet your face with warm water, rub a dime size amount all over your face, rinse your face with warm water then pat it dry.  Your face will feel greasy for about 20-30 minutes. This is temporary as the Coconut Oil absorbs into your skin.  Now, the con to using this is a big side effect that does go away.  Due to the exfoliating (by the Baking Soda) and the anti-bacterial/anti-fungal properties of the Coconut Oil, you may experience a bad breakout for the first week or two of use.  This is a sign that the face wash is working because it is bringing all the gunk out of your pores. I recommend washing your face with this mixture once a day.
I do make this product for sale too, if you don't want to make your own. Message me for details.